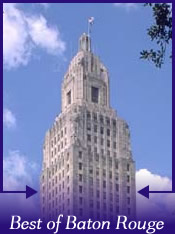 I'd previously been to this location when it was under another name so it was a bit of a revisit for me. They definitely improved the atmosphere as it's much more warm and inviting to me. A big beautiful bar area with a very impressive wall of wine on racks. Nice use of wood that I really enjoyed.

We made our way over to Blend to try out their Spanish Wine Dinner out. They're regularly hosting these wine dinners where their great chefs cook special meals which are paired with a theme of wine. This one was Spanish and it was quite nice. The food was very tasty with some really nice sauces and creative twists. The wine pairing was very nice and very enjoyable.

Their staff did a good job of being very attentive towards us. I don't know if they've always got so many hands on deck but it was well covered. Overall a good place I'll checkout when I want wine and fancy dining.





Contact and/or Location Info:

304 Laurel St, Ste 1B
Baton Rouge, LA 70801
(225) 757-5645
See Location On A Map


Website Available: Blend Wine Bar
Best of Baton Rouge Category: Bars and Taverns


Originally posted 04/24/2013 by Wayne Odom





View Larger Map
See Detailed Google Map