Biggest selection of cigars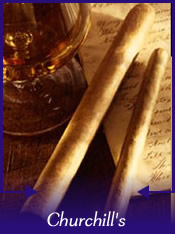 Named after the great Winston Churchill this fine establishment provides a huge array of fine cigars, rare wines and whiskeys. They sell retail in the front and the back of the establishment features two cozy rooms with two bars. A great place to go for a business discussion or to enjoy a great glass of wine or whiskey. Smoking is allowed so you can enjoy a fine cigar purchase in style.

A couple of nights a week they will have a band come in to play music for the patrons.





Contact and/or Location Info:

7949 Jefferson Highway, Suite C
Baton Rouge, LA 70809
(225) 927-4533
See Location On A Map

Best of Baton Rouge Category: Bars and Taverns


Originally posted 01/26/2008 by Wayne Odom





View Larger Map
See Detailed Google Map