Great taps and good place to watch sports or play pool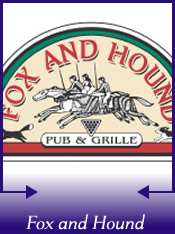 I can say that personally I've never had a bad experience at Fox and Hound. This very large English style pub is a very professionally run establishment. It features a very large beer & spirits menu, full food menu, pool tables, booths, television, mini bowling, darts and a large private room for parties. Here are a few thoughts that come to mind about this fine establishment...

I last visited Fox and Hound Saturday(12/2/2006) and there was a very large crowd out of people there but not so many that you were uncomfortable. There were a number of private parties going on and generally just people meeting up with friends. This is a great place to meet for business or personal parties.

The food at Fox and Hound is very good for a bar and the few service problems I've seen happen there were handled very appropriately by the management.

The Fox and Hound is right next door to Sullivan's, The Melting Pot, Clicks and Hooters so its a prime place to stop before or after dinner and there are a ton of other options within walking distance if you'd like to check them out.







Contact and/or Location Info:

5246 Corporate Blvd
Baton Rouge, LA 70808
(225) 926-1444
See Location On A Map


Website Available: Fox and Hound English Pub
Best of Baton Rouge Category: Bars and Taverns


Originally posted 01/22/2007 by Wayne Odom





View Larger Map
See Detailed Google Map