Fred's Tigerland
Popular LSU area bar.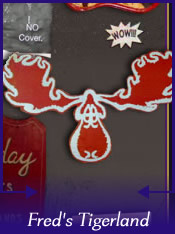 For over 25 years now this has been a happening spot in the heart of LSU. The bar features a stage, a dance floor and a large outside patio area. It often draws large crowds of thirsty patrons from the surrounding LSU area residents. They occasionally bring in big name live music acts. Nightly drink specials.
Even at 30 I still go to Fred's from time to time. They have an occasional open bar special. $10 and drink free for 3 hours is hard to pass up on a Friday afternoon.
Contact and/or Location Info:
1184 Bob Pettit Blvd
Baton Rouge, LA 70820
(225)766-3909
See Location On A Map
Website Available:
Fred's Tigerland
Best of Baton Rouge Category:
Bars and Taverns
Originally posted 01/26/2008 by Wayne Odom

View Larger Map
See Detailed Google Map