French Quarter Daiquiries
Good bar and hang out.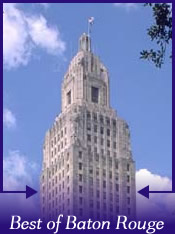 I've been to this bar several times after work or at night for a drink and always had a nice time. Lots of seating and a friendly crowd. I noticed many people from local businesses go here after work for drinks. We've also gone there to drink buckets of beer and play Golden Tee. It's got a good open feel to it and a long bar. Worth a visit if you're in the Essen area.
Foodwise they have some pub food so you can get a bite there.
Contact and/or Location Info:
5625 Essen Ln
Baton Rouge, LA 70808
(225) 767-5144
See Location On A Map
Website Available:
French Quarter Daiquiries
Best of Baton Rouge Category:
Bars and Taverns
Originally posted 03/16/2008 by Wayne Odom

View Larger Map
See Detailed Google Map