Old style Irish pub situated downtown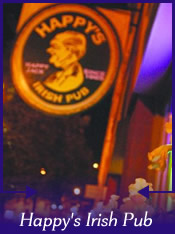 Happy's has been a hit from the day it opened. It's an Irish style pub featuring an array of taps displayed on a long bar. There are a number of booths to sit and enjoy your drinks while being served by beautiful bartenders in cheerleader like outfits.

Happy's reminds me of the pubs I visited in London, England. It's like stepping out of Baton Rouge and in to the UK. A really great place to hang out for a drink.





Contact and/or Location Info:

136 Third St
Baton Rouge, LA 70802
(225)389-1282
See Location On A Map


Website Available: Happy's Irish Pub
Best of Baton Rouge Category: Bars and Taverns


Originally posted 12/26/2007 by Wayne Odom





View Larger Map
See Detailed Google Map