Live Music, Dancing and Karaoke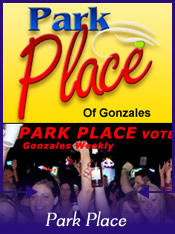 Park Place is a long running great spot in nearby Gonzales, Louisiana. It's one of the few places in the Baton Rouge area that you can find something every night of the week including Sundays. Many of the most excellent local party bands play here regularly and they have a good scene of people looking to just have a good time.

Monday night there is a steak night at a great price with a beer. Afterwards they have Karaoke.

Pool tables, Foosball, Mega Touches and HD Plasmas for the complete bar & night spot experience.





Contact and/or Location Info:

1711 S Burnside Ave
Baton Rouge, LA 70737
(225)644-8901ý
See Location On A Map


Website Available: Park Place Of Gonzales
Best of Baton Rouge Category: Bars and Taverns


Originally posted 07/28/2008 by Wayne Odom





View Larger Map
See Detailed Google Map