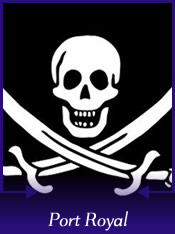 Port Royal is one of those places you hear about from people who visit a town. It's a pirate themed hole in the wall located in the same building as a Waffle House restaurant. Literally the only thing you see is a small sign that says "Port Royal". We always have it on our list of places to go during bar golf.

It's a small place that's half pirate half rock and all hang out. There's a bar, a pool table(or two) and the usual bar amenities. Lots of people frequent this place as regulars because it's just that kind of cool laid back hangout.

As of 2009 Port Royal has been expanding it's beer selection to be a formidable force in Baton Rouge. They've got nearly 300 and have them listed on their website. It's truly a drinkers paradise.





Contact and/or Location Info:

2363 College Dr
Baton Rouge, LA 70808
(225) 201-9900
See Location On A Map


Website Available: Port Royal
Best of Baton Rouge Category: Bars and Taverns


Originally posted 02/18/2008 by Wayne Odom





View Larger Map
See Detailed Google Map