Hole In The Wall Downtown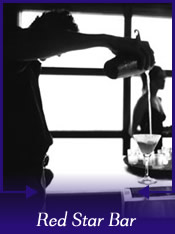 This bar has to be working on being one of the longest running in the downtown area. Many places come and go but this cool local dive remains. Red Star isn't much more than a 25 foot or so bar, a couple of booths/tables and a few of the other common bar amenities. However it's got a charm in it's atmosphere that makes it very unique. There always seems to be at least a dozen patrons at any given time having a good time and then a good crowd on the going out nights. Cool place to stop and hang out.

They do have live entertainment nights. Things like Karaoke, bands and themed music nights. Call them for details as their website says it's subject to lots of changes.





Contact and/or Location Info:

222 Laurel St
Baton Rouge, LA 70801
(225)346-8454
See Location On A Map


Website Available: Red Star Bar
Best of Baton Rouge Category: Bars and Taverns


Originally posted 09/26/2008 by Wayne Odom





View Larger Map
See Detailed Google Map