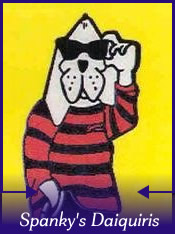 I've really got to give it to Spanky's they impress me. This is one of the places you just step foot in and wonder why they're so popular and have made it so long. Lots of bars have come and gone investing hundreds of thousands of dollars but these guys with a pretty simple recipe have come and stayed in the South East Baton Rouge Metro area for as long as I can remember. The Sherwood Forest location is the oldest but the Prairieville location has been around for years and the Maurepas location is said to be doing quite well.

Why do they do so well? It's just a great place to get together. They've always got something going on whether it be some local band playing a night or the Spanky's block party with lots of live music. They put on football games, UFC and put up boards for people to play. They come up with creative and fun drink specials. They just do what people like because they're right on the pulse of those who want to have a beer after work. Spanky's is a great Baton Rouge tradition. Check it out if you want to relax with drink in hand.

They do have a very small pub food menu. Basically it appetizers mostly fried. Drinking food!





Contact and/or Location Info:

4621 South Sherwood Forest Boulevard
Baton Rouge, LA 70816
(225) 295-3314
See Location On A Map


Website Available: Spanky's Daiquiris
Best of Baton Rouge Category: Bars and Taverns


Originally posted 07/05/2010 by Wayne Odom





View Larger Map
See Detailed Google Map