The Caterie Bar and Grill
Live music every night of the week.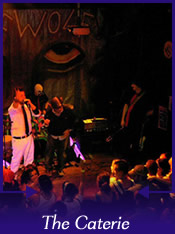 Recently burnt to ground. Hope it will come back!
The Caterie is a very popular place to hang out in Baton Rouge. Its close proximity to LSU, daily live music and daily drink specials make it really popular with the college aged crowd and anyone around town looking for something to do on the slow days. The Caterie is a great place to go watch live music every night and one of the few great places on Monday night.
Every night of the week the Caterie has a live band playing. The Monday Night Band plays there on Mondays(obviously) and incorporates members of other local bands in the area. Its really entertaining and as good as you can get on a Monday. Every other night of the week features some other band most of them local.(always good)
This bar is a long running tradition in Baton Rouge and a really cool place to kick back. Drink specials and a full food menu.
Contact and/or Location Info:
3617 Perkins Rd
Baton Rouge, LA 70808
(225) 383-4178
See Location On A Map
Website Available:
The Caterie
Best of Baton Rouge Category:
Bars and Taverns
Originally posted 01/22/2007 by Wayne Odom

View Larger Map
See Detailed Google Map