Large selection of beers and Baton Rouge's most beautiful bartenders.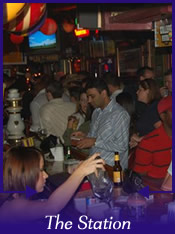 Every time I visit the Station I have a pretty good time. The place can be quite packed but it's always a great time with lots of people. Adults of all ages love visiting this place for their live music, upbeat sports bar atmosphere and beautiful bartenders. The station splits up their establishment into two different rooms. To one side is live music and dancing while the other room is a sports bar area with pool tables and a large bar. If there's a band you'll likely see a cover charge of $5. There's typically no long line to get into the establishment and the dress code is pretty lax.

I'd highly recommend checking out the Station on a Thursday, Friday Saturday night if you're looking to go dancing or just hang out with some friends.

One thing commonly overlooked about The Station is they have a huge selection of bottled beers.





Contact and/or Location Info:

4608 Bennington Ave
Baton Rouge, LA 70808
(225) 926-0631
See Location On A Map


Website Available: The Station Sports Bar
Best of Baton Rouge Category: Bars and Taverns


Originally posted 01/22/2007 by Wayne Odom





View Larger Map
See Detailed Google Map