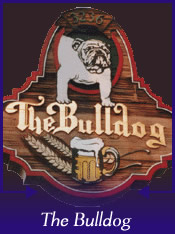 The Bulldog was founded in 1994 when four New Orleans locals had an idea to create a beer tavern that really took draft beer seriously. It came to Baton Rouge in 2008 and we couldn't be happier to have them. These people take pride in their beer to the next level. Anyone from New Orleans who loves beer would tell you to go to The Bulldog and now they're here. Located in the Southdown's shopping center.

We were very impressed with how The Bulldog has made a serious investment in Baton Rouge. Their new location is a beautiful representation of a European pub. It could be considered English in style however that'd be unfair given that they've got 80 beers on tap from all over the world as well as a generous bottles selection. Lots of nice dark wood, benches, wooden stools, a long wood bar, planks on the ceiling and some beautiful leather couches for sitting. Their outdoor patio is all new with plenty of seating, an outdoor gas fire pit and a really impressive beer tap fountain with their 50 taps pouring water. They didn't spare a single detail or cut any corners on this shiny new establishment.

They take serious pride in their beer delivery system. Specifications for this perfect pour system are on their website but all you really need to know is you'll get the cleanest, freshest, best tasting pours form their taps. A real plus for your beer dollar. The bartenders were all extremely friendly, prompt and knew their products.

Food is also offered at the Bulldog. They've got a good spread of tavern food for your choosing.

Baton Rouge has truly been blessed with this sparkling new addition to our evening scene. We'll definitely be regulars.
A little side note is if you're an American Homebrewer Association member you'll get a 15% discount at the Bulldog with your AHA pub discount card. They really support craft beer.





Contact and/or Location Info:

4385 Perkins Rd
Baton Rouge, LA 70808
(225)303-9400
See Location On A Map


Website Available: The Bulldog Baton Rouge
Best of Baton Rouge Category: Bars and Taverns


Originally posted 01/19/2009 by Wayne Odom

Weekly Food & Drink Specials


Monday
»» $2 Off Select Pitchers
Tuesday
»» $2 Off Select Bottles
Wednesday
»» Free collectable pint glass with every pint you buy!
Thursday
»» $2 Off Microbrew Pitchers 9pm-till



View Larger Map
See Detailed Google Map