The Grape At Perkin's Rowe
Wine, food and fun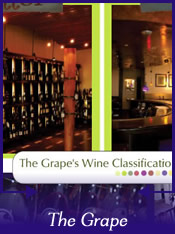 The Grape is going to be a great addition to Baton Rouge's bar and entertainment scene. The Grape has locations through the U.S.A. featuring an array of great wines, food and events such as wine tastings.
The setting is a very open and decorative lounge. You have a great view of Perkin's Rowe and can sit outside if you wish.
They offer a wide variety of wines to enjoy in their bar or take home from their retail area. They also have a nice bistro menu of food to pair with that wine. My wife and I love to go sit and enjoy a glass of wine and the cheese tray.
Contact and/or Location Info:
10111 Perkins Rowe, Suite 160
Baton Rouge, LA 70810
See Location On A Map
Website Available:
The Grape At Perkin's Rowe
Best of Baton Rouge Category:
Bars and Taverns
Originally posted 12/30/2007 by Wayne Odom

View Larger Map
See Detailed Google Map