English Style Pub & Grill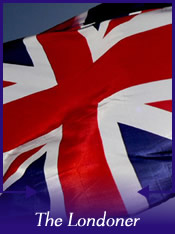 The Londoner is an exciting and much needed addition to the South East Baton Rouge bar and night life scene. The owners have spared no expense to bring us the authentic feel of an English style pub atmosphere.

Walking in you'll notice a lot of dark wood color like a Walnut or Cherry? Wood floors, wood planks, stairs leading up to an upstairs area, bar tops and a large bar in the back will immediately jump out at you. As you walk in you'll notice the fireplace, couches and chandelier that accent the open area leading to the upstairs. Really beautiful and inviting. What looked like 100+ beer steins lined the tops of the wooden planks leading up to the second story.

I was particularly suprised when passing by a couple of weeks earlier to see that they've built a large outside deck facing Sherwood Forest. To top that they built a brick wall and a fireplace setting facing the street as well. The fireplace is accented by half wooden beer barrels mounted on the wall. They really get points for presentation.

Foodwise I only had the chicken kabobs and it was great food. Served with rice it was light but flavorful. If the rest of the menu is this good I think they'll do really well with their food business but that asid with the dozens of beers on tap, the atmosphere and the environment I think they'll do outstanding in the bar arena of Baton Rouge.







Contact and/or Location Info:

4215 Sherwood Forest
Baton Rouge, LA 70816
(225) 292-9291
See Location On A Map


Website Available: The Londoner
Best of Baton Rouge Category: Bars and Taverns


Originally posted 11/23/2010 by Wayne Odom

Weekly Food & Drink Specials


Monday
»» $1 off all appetizers
»» $2 off house wine
»» $1 off all draft beer
»» All Day Happy Hour. $1 off all well drink
Tuesday
»» $1 off all appetizers
»» $1 off all draft beer
»» $2 off house wine
»» $1 off all well drink
Wednesday
»» $1 off all draft beer
»» $2 off house wine
»» $1 off all appetizers
»» $1 off all well drink
Thursday
»» $1 off all well drink
»» $1 off all draft beer
»» $2 off house wine
»» $1 off all appetizers
Friday
»» $1 off all well drink
»» $1 off all draft beer
»» $2 off house wine
»» $1 off all appetizers



View Larger Map
See Detailed Google Map