Live music, fun and drinks.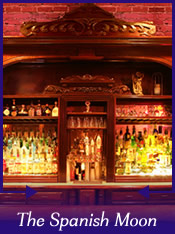 Located between LSU and downtown this is a truly unique bar in Baton Rouge. They have a bar, a stage, tables, a dance floor and an upstairs pool area. The bands that play there can best be described as Alternative/variety. It's basically whatever they feel is cool.

I've always had a good time at the Spanish Moon. The patrons and staff are friendly. It's truly a must experience for yourself type of place.





Contact and/or Location Info:

1109 Highland Rd
Baton Rouge, LA 70802
(225) 383-6666
See Location On A Map


Website Available: The Spanish Moon
Best of Baton Rouge Category: Bars and Taverns


Originally posted 01/21/2008 by Wayne Odom





View Larger Map
See Detailed Google Map