The Wine Loft
Enjoy great wine downtown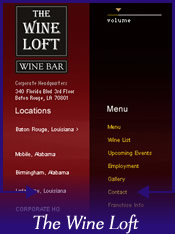 Situated in downtown the Wine Loft is a wonderful place to lounge and enjoy and evening. I've been there several evenings and had a great time every time. They've got a great wine list, menu and an elegant layout to enjoy your time.
The food was primarily small food that I'd call hors d'oeuvres. Full of flavor and things that you'd enjoy with wine. I had the pleasure of trying much of their menu when I attended a reunion held at the Wine Loft. It was great.
Their upstairs area is a private area where people can reserve a place for friends. You've got to have a party of a certain size and you may be required to purchase so much wine.
Wednesday Wine Tasting
A weekly event that I've heard is nice is their complementary Wednesday wine tasting from 6-9.
The Wine Loft has opened a beautiful new location in Perkin's Rowe.
Contact and/or Location Info:
304 Laurel Street
Baton Rouge, LA 70801
(225)241-3948
See Location On A Map
Website Available:
The Wine Loft
Best of Baton Rouge Category:
Bars and Taverns
Originally posted 05/14/2007 by Wayne Odom
Weekly Food & Drink Specials
Tuesday
»» 1/2 price bottles of wine
Wednesday
»» complimentary wine tasting (6-8)



View Larger Map
See Detailed Google Map