The Most Patriotic Bar in Louisiana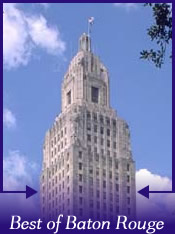 I got to visit Tiger Tavern today while out in Prairieville. I needed a beer and I heard they had several craft brew taps so I figured it was time to stop in. It sits at the corner of the really nice large new business area they built at the corner of Highway 44 and Germany road. I grew up in Gonzales and it still amazes me how much that area and that corner has grown. Truly a very nice area.

Walking in to Tiger Tavern the first thing I noticed is it's a non-smoking bar which for me is just wonderful. Some of the longtime favorite bars in Prairieville were often very unattractive to lots of folks due to how much smoke you had to endure. Tiger Tavern lists itself as non-smoking but puts a lot of nice benches out front for their smoking customers to step out. A couple of folks were sitting out there having a cigarette. The second thing I notice is this place has to have the most patriotic decor I've ever seen. My buddy asked me if we should say the "Pledge of Allegiance" as we walk in. They had some excellent painter come in and do beautiful work in honor of America and the US Marines. The owners are retired Marines. There are about 50 very nice wooden bar stools and a really nicely done long wooden bar and wooden tables. My first impression was that they really put some money in to building a high quality bar.

As most know I'm a craft beer drinker and I was happy there. They had 3 New Belgium products, Abita Amber, Magic Hat, Saint Arnold Seasonal and a couple of others that slip my mind. My wife sampled some daiquiris from a very nice bartender and found one she really enjoyed. At 5pm on a Friday there were about 20 people there which in my experience is a great crowd at any bar for after work especially Prairieville. For me this is a sign that they opened a great bar at the right location and are doing the right things.

I saw a lot of good specials on the wall and other patrons enjoying beer buckets at what must've of been a good price. They have some nice Golden Tee machines and I'm told there are daily drink specials and live entertainment most nights. I loved the place and feel like anyone in the Prairieville or Gonzales area looking for a great happy hour spot, night spot or drive thru daiquiri bar should check these guys out. I think they care about their business and will become a long time tradition in the soon to be city/town of Prairieville.





Contact and/or Location Info:

14505 Highway 44
Baton Rouge, LA 70737
(225) 235-4954
See Location On A Map


Website Available: Tiger Tavern
Best of Baton Rouge Category: Bars and Taverns


Originally posted 06/28/2013 by Wayne Odom

Weekly Food & Drink Specials


Monday
»» $1 off large daiquiris
»» Happy Hour 4-7pm. $1 off drafts
»» Man Crush Monday!
»» $5 Doubles: Jack Daniels, Jim Beam, Jose Cuervo, Captain Morgan, Evan Williams
Tuesday
»» 2 for 1 small daiquiris
»» Happy Hour 4-7pm. $1 off drafts
Wednesday
»» Happy Hour 4-7pm. $1 off drafts
»» $1 off large daiquiris
Thursday
»» Happy Hour 4-7pm. $1 off drafts
»» 2 for 1 small daiquiris
Friday
»» Happy Hour 4-7pm. $1 off drafts
»» $1 off large daiquiris
Sunday
»» Sin Night Sunday!
»» $2 Shots of Fireball, Rumplemintz, Jagermeister, Bird Dog Peach Whiskey!
»» $3.5 Shots Rum Chata!
»» $4.5 Bomb Shots Vegas Bomb, Jager Bomb, Nola Car Bomb
»» $20 Gallons of Daiquiris all day Sunday



View Larger Map
See Detailed Google Map