Popular dance club and night spot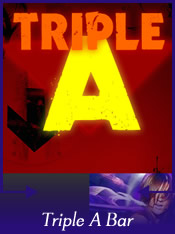 Triple A bar is a long time establishment located off of College drive. Nights late in the week it's one of the biggest dance clubs in town usually featuring a DJ playing whatever is new and hot in dance music. It's basically one big large room with a large bar to one side and a dance floor to the other. A mixed crowd.

Triple A contains the Funny Bone Comedy club where many great acts come to perform.

Triple A has a good new years eve party. In recent years it's always been a themed party. 2007's party was a "Red" party and 2008 is featuring a "Purple and Gold" party. Check their website for details.





Contact and/or Location Info:

4715 Bennington Ave
Baton Rouge, LA 70808
(225) 927-3222
See Location On A Map

Best of Baton Rouge Category: Bars and Taverns


Originally posted 12/30/2007 by Wayne Odom





View Larger Map
See Detailed Google Map