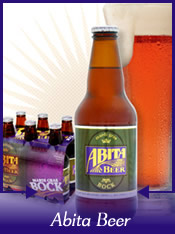 Brewer of fine craft ales and lager about an hour outside of Baton Rouge in Abita Springs. Abita is a big time household name in the city of Baton Rouge. They're a great brewer that we're fortunate to have. A producer of a fine line of ales, custom lagers, rootbeer and seasonal brews custom to Louisiana and our culture. They've also got a pretty great brew pub called "The Abita Brew Pub".(go figure)

After attending a great cask ale event put on by Abita I noticed somehow I never added them to Best of Baton Rouge. This was a very shocking suprise because these guys put on meals, tastings, cask ale events, pub crawls and general specials all over time. They also sponsor and show up at many other Baton Rouge events. Abita is a big time part of the local business community of Baton Rouge and I should've added them a long time ago.

In terms of entertainment for Baton Rouge you can check out the "Party" tab of their website. They list ahead of time their pub crawls, dinners and other events. They're always updating and there's always something great coming to Baton Rouge.

Beerwise their best known brew in my circles is the Abita Amber. It's a very good amber ale with a light, sweet malty flavor that's appealing to the average beer drinker as well as the biggest beer snobs. For me the Abita SOS is a great representation of the pilsner in my opinion and drinks very well. They've also done great things with the latest grain in Rye beers. I feel very fortunate to have them so close.

Their brew pub and tour are a great experience. If you're visiting Baton Rouge you should take the drive. It's a nice stretch of scenery between Baton Rouge and Abita brewery and their pub doesn't disappoint for atmosphere. The food is good Louisiana style grub and of course there's a selection of brews on tap. They have a nice New Oreans(Creole) style jambalaya that many people in Baton Rouge aren't used to. Good stuff.





Contact and/or Location Info:

21084 Louisiana 36
Baton Rouge, LA 70420
(985) 893-3143
See Location On A Map


Website Available: Abita Brewing Company
Best of Baton Rouge Category: Service Businesses


Originally posted 02/18/2011 by Wayne Odom





View Larger Map
See Detailed Google Map