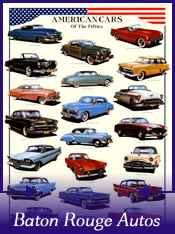 The Baton Rouge metro area has every major brand of car dealership you'd need to satisfy your needs. Ford, Chevy, Toyota, Honda, Volvo, etc are all here. Based on personal experience here are the dealerships we can recommend to buy a new car or have a car serviced.



All Star Ford Lincoln Mercury - The best place to buy a new ford vehicle in the Baton Rouge area.


Richards Honda Baton Rouge - I purchased my 2001 Honda Civic new from this dealership and was happy with the sales and service after.


The V Shop - A full service Volvo and Volkswagen service center and used car dealership for over 25 years.