Huge entertainment venue downtown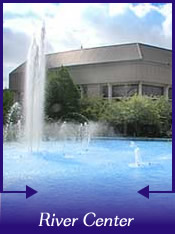 This huge building is the most recognizable building in downtown and sits centered to just about everything there as far as entertainment is concerned. There is the huge theatre of the performing arts, a 70,000 square foot convention center and a 10,000 square foot arena. If it's a big event it's likely to be held here. From concerts and theatrical shows to comedians and large conventions it happens here.

A great thing about where this place is situated is that it's in between everything fun. You can walk to the riverwalk, Shaw center for the arts, the downtown Hilton, the casino or to third street where all the entertainment is at. It's all there.





Contact and/or Location Info:

275 River Rd S
Baton Rouge, LA 70802
(225) 389-7609
See Location On A Map


Website Available: The Downtown River Center
Best of Baton Rouge Category: Service Businesses


Originally posted 11/04/2007 by Wayne Odom





View Larger Map
See Detailed Google Map