Deja Vu Tattoo Baton Rouge
Tattoo and Body Piercing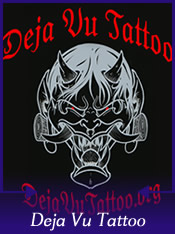 Located in South East Baton Rouge on Airline Highway between Coursey and Seigen Deja Vu has an excellent location. It's in a very clean and open shopping center with a wide variety of businesses. Walking in it's a very comfortable place with some display cases full of jewelry, art on the wall and a cozy waiting area. The very friendly owner walked out of her office and greeted me happily.
Deja Vu goes out of their way to make it the most professional tattoo and body piercing environment in town. They take high pride in hiring only the best artists as well as making the visit as friendly and safe as possible for their customers. If you're considering some new ink, fixing bad ink or getting that first tattoo in Baton Rouge you're surely want to visit Deja Vu Tattoo. One of
Baton Rouge's best tattoo and body piercing
businesses.
Click here for Deja Vu Tattoo's website.
Contact and/or Location Info:
10466 Airline Hwy
Baton Rouge, LA 70816
(225)291-0095
See Location On A Map
Website Available:
Deja Vu Tattoo Baton Rouge
Best of Baton Rouge Category:
Service Businesses
Originally posted 11/05/2011 by Wayne Odom

View Larger Map
See Detailed Google Map