Network Security, Virtualization, Custom Programming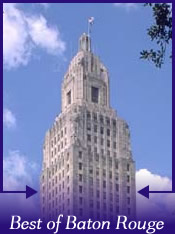 With over 25 years of experience in advanced IT systems GEAUXTechnology provides for business and residential needs in the greater Baton Rouge area. Their engineers are highly motivated and passionate about their jobs. Specializations include website development, computer repair, wireless network installation and support, system security, data recovery, data backup, business services and many other IT services. They are locally owned, operated and prepared to meet you about your technology needs.

If you check out their IT Business Servies Page you can see a menu of pricing for their most common offerings for small to medium business in Baton Rouge. Very useful if you're having network speed issues or problems with employee computers coming down with viruses. Securing your business network is no joke. They also offer some residential computer services for those looking for computer repair, printer setup, spyware removal, entertainment center setup, etc. Great if you want your setup done professionally at home.





Contact and/or Location Info:

Baton Rouge, LA
(225)384-0498

Website Available: GEAUXtechnology
Best of Baton Rouge Category: Service Businesses


Originally posted 01/02/2013 by Wayne Odom