Rental Tools for Any Job.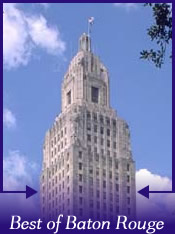 General Rental is a Baton Rouge rental business located in Southeast Baton Rouge on Airline Highway. They have an extensive catalog of hundreds of tools the resident, business/contractor might need to rent to do a big job. The catalog is available online via their website and features everything from excavators to backhoes to bobcats , jacks, ladders, engine lifts, tillers and the list goes on. Truly impressive number of tools you can see just by getting a peek in to their giant storage area on Airline highway.

Their staff is extremely courteous and professional. When I was there they were very busy but did a great job helping everyone. They're locally owned/operated and have been around for nearly 20 years. A great company if you need to rent something in Baton Rouge or Prairieville.





Contact and/or Location Info:

16155 Airline Hwy
Baton Rouge, LA 70817
(225) 755-2277
See Location On A Map


Website Available: General Rental of Baton Rouge
Best of Baton Rouge Category: Service Businesses


Originally posted 07/25/2013 by Wayne Odom





View Larger Map
See Detailed Google Map