Finally reopened after millions of dollars in renovations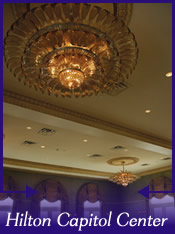 This famous hotel and convention center had previously been closed down for years. After millions of dollars of renovations they've finally re-opened as one of the nicest places in town.

Prior to the Orion Mardi Gras ball some friends and I spent some time in their beautiful bar. It's a very nice modern lounge. Some of our friends had a room there for the night so we got to take a look at the rooms they're offering. Really nice with a wonderful view of the Mississippi.

Neat fact. The bartender said that they'd turned Huey Long's old tunnel into a private dining room and wine cellar. Very cool.







Contact and/or Location Info:

201 Lafayette Street
Baton Rouge, LA 70801
(877)862-9800

Website Available: Hilton Capitol Center
Best of Baton Rouge Category: Hotels In Baton Rouge


Originally posted 02/19/2007 by Wayne Odom





See Detailed Google Map