Great hotel and convention center located in prime location in Baton Rouge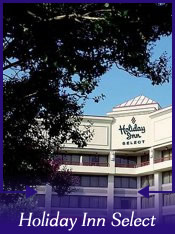 Right in the middle of Baton Rouge it's the best place to stay if you want easy access to everything. Downtown, LSU or the local entertainment right there on College drive. If I were coming into Baton Rouge to visit this would be the hotel I'd stay at.

If you're from out of town this place is great location wise. Alot of the best local entertainment(Ninfa's, The Station, Triple A, Fox and Hound, Clicks, Sullivan's, etc.) are all less than 5 minutes from this place. A few are in walking distance. You're 10 minutes from LSU or downtown and it's straight forward to get there.

New Years Eve Party

Every year this hotel throws an awesome New Years eve party. There's a band, dancing and great room rates / packages.





Contact and/or Location Info:

4728 Constitution Avenue
Baton Rouge, LA 70808
(225)925-2244
See Location On A Map


Website Available: Crowne Plaza
Best of Baton Rouge Category: Hotels In Baton Rouge


Originally posted 02/27/2007 by Wayne Odom





View Larger Map
See Detailed Google Map