Really cool location in Downtown Baton Rouge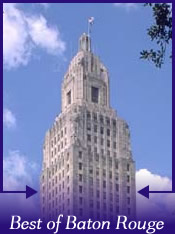 If you're coming to Baton Rouge and you want a place that can quickly get you anywhere this is the best hotel for you. It allows easy access to downtown, LSU or Interstates to get wherever you need to go. However these aren't the reasons I would stay there.

For starters I would stay there because it's connected directly to the casino, the riverwalk, museums, restaurants and across the street from the Baton Rouge River Center. It's about the best hotel in town in terms of entertainment attached to it. You're also about a 5 minute walk from 3rd street where you'll find a lot of restaurants and bars. We regularly stay in the Sheraton for Baton Rouge Mardi Gras events and have a great time.





Contact and/or Location Info:

102 France Street
Baton Rouge, LA 70801
(225) 242-2600
See Location On A Map

Best of Baton Rouge Category: Hotels In Baton Rouge


Originally posted 04/29/2010 by Wayne Odom





View Larger Map
See Detailed Google Map