Baton Rouge's Great Local Dairy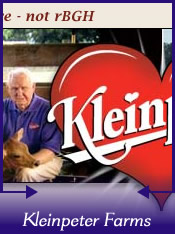 If you're a Louisiana native you probably take this great company and their products for granted. They're fantastic and growing up my mother wouldn't buy anything else but Kleinpter milk, French onion dip and creams. It's always been great and it wasn't until I got older that I realized unless I'm in Louisiana I won't have them! They're a great gem that's right here in Baton Rouge and a daily pleasure.

Kleinpeter's facilities are in beautiful areas and really worth checking out. They offer weekly tours of their farms and their production plants. If you check out their website(link below) they have well detailed information on the tour availabilities and general rules. They've done a great job with their website and it contains lots of information that's very interesting.

Kleinpeter is a big part of our community. They contribute to charities and help with great family fun things like the Cajun Corn Maze.

Oh and their ice cream is outstanding!





Contact and/or Location Info:

14444 Airline Highway
Baton Rouge, LA 70817
(225)753-2121
See Location On A Map


Website Available: Kleinpeter Farms Dairy
Best of Baton Rouge Category: Service Businesses


Originally posted 10/17/2010 by Wayne Odom





View Larger Map
See Detailed Google Map