Burn Serious Calories Kickboxing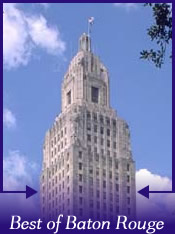 If you've noticed I slowed down working on Best of Baton Rouge for the past month it's because of LA Boxing wearing me down and working me out 3-4 times a week. They're fairly new in town and offer a wide variety of training that's far from your typical gym. For people like me it offers an excellent way to stay interested in working out, burn a ton of calories and get pushed to fitness goals.

The services offered are basically this.

1.) You can sign up for package A which gets you in the boxing and kickboxing classes. To me they're essentially circuit training classes offered at a wide variety of times which makes it very convenient. An instructor leads the class pushing you for 1 hour on an ever changing variety of stretching, kicking, core, bag and floor exercises. The instrutors are all very experienced martial artists from a variety of backgrounds from kickboxing to jiu jitsu. In addition to this you have full use of the gym amenities at any time.(weight room, bags, etc)

2.) You can sign up for package B which includes package A plus advanced martial arts training. Essentially package A is a circuit training gym membership while B puts you on full blown learn to fight, mma training.

As a person with a diverse martial arts background I feel like this is a great place for me. Every instructor I've found to be extremely competent in what they're teaching. It doesn't get old for me like a regular gym. I've also found that they're very accommodating to varying fitness levels so you don't have to be fit when you walk in. However give it 6 months and you'll be fit walking out.





Contact and/or Location Info:

4520 South Sherwood Forest Boulevard
Baton Rouge, LA 70816
(225) 291-5269
See Location On A Map


Website Available: LA Boxing of Baton Rouge
Best of Baton Rouge Category: Service Businesses


Originally posted 09/16/2010 by Wayne Odom





View Larger Map
See Detailed Google Map