Signs in a Day
Offers Best Signs in the Baton Rouge Area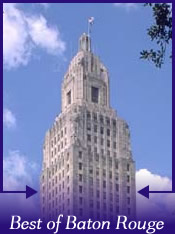 A professional sign company providing services to businesses and individuals in Baton Rouge. Don't hestitate to call being that they're a nice group who are happy to talk with you about your needs. I was very impressed with their sign samples in their showroom on Sherwood Forest Blvd. I feel like they're one of the best
sign companies in Baton Rouge
. Here's a little information from their website:
A professional sign company serving residents and business in Baton Rouge and surrounding areas for over 10 years. We pride ourselves in offering quality products at a price you can afford in a very fast turnaround.
We specialize in Banners, Veicle Lettering, Magnetic Signs, Sandblasted Wood and HDU Signs, Granite, Yard Signs and much much more.
Contact and/or Location Info:
3034 South Sherwood Forest Boulevard #1
Baton Rouge, LA 70816
(225) 293-0466
See Location On A Map
Website Available:
Signs in a Day
Best of Baton Rouge Category:
Service Businesses
Originally posted 01/16/2012 by Wayne Odom

View Larger Map
See Detailed Google Map