Enjoy Good Company & Coffee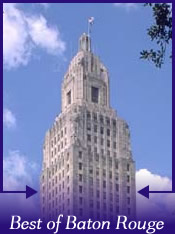 Anyone who's lived in Baton Rouge long enough to call themself a local knows Coffee Call. For decades they've been serving coffee and pastries 24 hours a day. It's a real popular spot with the LSU college crowd and people who used to be the LSU college crowd like myself. Many people like to go relax there on weekends after Church. I used to think it was one of the best places to go and cram for those exams when I was at LSU. I loved the hot chocolate.

It's now located in the huge Village Square with the Wal-Mart and all that. People who've been out of town for years will be shocked to see the old building is no longer there but look harder and you'll find it right next to the newer Great Wall location.





Contact and/or Location Info:

3132 College Dr
Baton Rouge, LA 70808
(225) 925-9493ý
See Location On A Map

Best of Baton Rouge Category: Coffee Houses


Originally posted 07/09/2009 by Wayne Odom





View Larger Map
See Detailed Google Map