Community serves up good quick breakfast and specialty coffee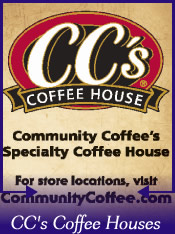 Here at Best of Baton Rouge I try not to list chains but South Louisiana has produced a great competitor in the chain coffee house business. CC's serves up some really great coffee and teas all over Baton Rouge. They've got anything you want in the arena of espresso and coffee.

Breakfast

One of my favorite things about CC's is that they've got croissant, healthy muffins, cookies and other quick baked goods for breakfast. The whole drive through coffee house concept thats becoming so popular makes it easy to drive in, get food and get on your way.

Free Wi-Fi Internet

Starbuck's gets beat hands down by CC's in the Baton Rouge area in my opinion. The free Wi-Fi makes it so that I never set foot in Starbuck's who charges for theirs.





Contact and/or Location Info:

Baton Rouge, LA
Best of Baton Rouge Category: Coffee Houses


Originally posted 02/25/2007 by Wayne Odom