Absolutely excellent breakfast.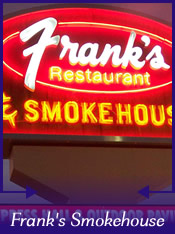 Frank's is in the booming Prairieville area right outside of Baton Rouge. They have some of the best breakfast in the area. Excellent hashbrowns, breakfast combos and probably the best biscuits in town. They have an alligator sausage breakfast plate I ordered that was excellent. Really worth a visit or twenty. There is also a location in Baton Rouge on Airline near Florida.

What I love about Franks most is it's such a homestyle restaurant. The food is always like something mom used to make and the service is always friendly. Like any good restaurant the owners are always there making sure everything is top notch.

The specials are excellent especially around the holidays. Turkey stew, lasagna, hamburger steak, seafood, beans, boston butt and more. You can also call and request your favorite special be put on the menu and they might make it.





Contact and/or Location Info:

17425 Airline Highway
Baton Rouge, LA 70769
(225)673-8876
See Location On A Map

Best of Baton Rouge Category: Coffee and Breakfast


Originally posted 02/29/2008 by Wayne Odom





View Larger Map
See Detailed Google Map