The Best Coffee In Baton Rouge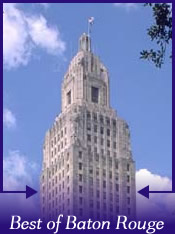 River Road Coffee is owned and operated by John Melancon, a veteran in the coffee industry with more than 30 years of experience. John "The Coffee Man" and his son Ian work hard to produce the best coffee and coffee service in the Baton Rouge area. I personally prefer their coffee over any others and I think the fact that it's locally owned, operated and produced makes it all that better.

River Road Coffee offers business coffee services, service to coffee shops and even online order service if you want to have it delivered to their home. They have some very neat blend names such as "The Vacherie", "Port Allen" and "Brusly" as well as all the specialty roasts most love.





Contact and/or Location Info:

11569 Investor Ave
Baton Rouge, LA 70809
(225)751-2633
See Location On A Map


Website Available: River Road Coffees
Best of Baton Rouge Category: Coffee and Breakfast


Originally posted 06/02/2009 by Wayne Odom





View Larger Map
See Detailed Google Map