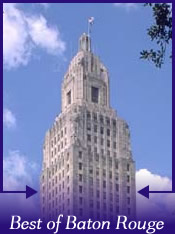 This great little cafe near the river in Downtown is one of the real rewards for me building this website. I'd not heard of Strand's but a number of visitors to the website wrote in to let me know what I was missing. As one who doesn't work downtown I was completely unaware that Strand's was capturing the hearts of Baton Rouge residents Tuesday through Friday.

Strand's offers a great variety of pastery creations sure to please all comers. Croissant sandwhiches, scones, chocolates, coffee and lattes I've been told are must try when you visit. The atmosphere is said to be a warm and wonderful way to relax while in downtown Baton Rouge.

On my visit to Strand's I was stunned at how beautiful and inviting the establishment is. One of the owners stood happily at the counter waiting as I walked in the door. She told me all about their cafe. I was particularly amazed at the beauty of their custom made chocolates. They are chocolatiers and from the looks of it they are most exceptional.

I had their iced vanilla espresso and a spicy ham filled croissant which was the best I've had since I went to Paris. It was truly exceptional and I see why so many people emailed me telling me about Strands. It's on my must visit list and I will certainly go back again and again.





Contact and/or Location Info:

226 Laurel Street
Baton Rouge, LA 70801
(225) 344-5346
See Location On A Map

Best of Baton Rouge Category: Coffee and Breakfast


Originally posted 02/21/2010 by Wayne Odom





View Larger Map
See Detailed Google Map