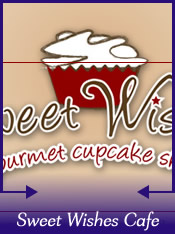 Do you absolutely love cupcakes? Do you find yourself longing for that perfect cupcake you had long ago at grandma's? Well if you want cupcake heaven it's here in Baton Rouge at Sweet Wishes cafe. A gourmet shop which offers about 35+ different handcrafted cupcakes. It's a great place to go sit, relax and enjoy a perfect cup of coffee and a cupcake like you'll have no place else. They also have free wifi so you can act like you're working while you'e indulging. It's locally owned and operated by two ladies who'll make sure you're at home when you visit Sweet Wishes.

I visited Sweet Wishes to get some cupcakes for my wife and of course try them out. I had a red velvet cupcake that was so moist and tasty. Truly I was shocked at how good it was. For my wife I got an arrangement of four including red velvet, White Chocolate Raspberry, Italian Cream and Carrot. They were very beautiful and tasty treats. Talking with the lady at the counter she explained that with a couple of days notice you can have specially made cupcakes just for your loved one. Most of the cupcakes have a custom made chocolate top piece and they can make those specially for your occasion. Very neat.

I also found out that Sweet Wishes has breakfast cupcakes that you can call in and order. How about that? Breakfast cupcake.





Contact and/or Location Info:

10889 Perkins Road
Baton Rouge, LA 70810
(225) 757-6880
See Location On A Map

Best of Baton Rouge Category: Coffee and Breakfast


Originally posted 05/10/2010 by Wayne Odom





View Larger Map
See Detailed Google Map