Great breakfast made to order and coffee.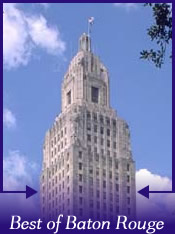 Coffee Bean is a great little coffee shop that's not so well known by people in Baton Rouge. They serve breakfast food made to order, muffins, coffee, espresso and other coffee shop treats.

They've got some of the best omelletes in town. Stop in for a wonderful breakfast in a relaxing atmosphere. Since they've moved to their new location they really get a nice crowd since they have the room to hold it. A great place.





Contact and/or Location Info:

12177 Coursey Boulevard
Baton Rouge, LA 70816
(225)291-9870
See Location On A Map

Best of Baton Rouge Category: Coffee and Breakfast


Originally posted 03/18/2007 by Wayne Odom





View Larger Map
See Detailed Google Map