Kolaches, Breakfast, Coffee, etc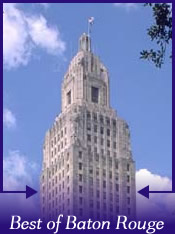 I decided to hit this place since I've heard about it online some. It was an interesting visit for sure. First off it's essentially bolted on to a gas station which kind of threw me a bit. We pulled up and walked in to find a pretty full place bustling with mostly younger folks from LSU. The menu was some basic kolaches, some traditional breakfasts, some pastry options and some community coffee. The staff was very polite and moving like quite a team to take care of everyone. It's a nice place with some good seating that was mostly taken up by people with computers and books which makes sense on LSU campus.

The food was pretty good. I wouldn't say it lives up to the hype I've read about online but I enjoyed it. A good option for certain if you find yourself by LSU.





Contact and/or Location Info:

4245 Nicholson Dr
Baton Rouge, LA 70806
(225) 757-6666
See Location On A Map

Best of Baton Rouge Category: Coffee and Breakfast


Originally posted 03/05/2013 by Wayne Odom





View Larger Map
See Detailed Google Map