A Wednesday Night At Birdie's Cigar Bar
Decided to check out this Prairieville spot.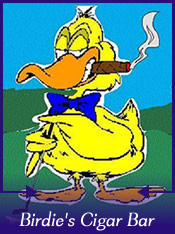 I'd just noticed the signs next to the road for this cigar bar about a month ago and thought it was about time to go drop in. They had picked me up on Myspace and were advertising the Miller girls and live music from 5 till. How can you go wrong with that?
I got there a little late for the Miller girls but found about 20 people hanging out and having a great time. It's was a very fun and very inviting atmosphere with friendly patrons and staff. I met a few people and had good conversation.
A few people were hanging out and smoking cigars while others were just enjoying company. Despite being a cigar bar it wasn't a very smoke filled room.
The owners were there that night and having a very good time with all the patrons. Their bartender was a very nice guy with a Northern accent. This bar is a very good local hangout.