Saturday Night At Caterie
Live music in a friendly atmosphere.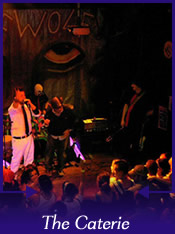 It'd had been a while since we'd gone to the Caterie on a Saturday night. This past weekend we went to celebrate my friends birthday with some live music. As always you can always depend on the Caterie to bring you great live entertainment.
The band was called "The Fourth" and they covered all your favorite rock/alternative hits from the past 20 years. Really a great time and they attracted a young but cool and friendly crowde. It was a great night and the Caterie proved it's still the best in Baton Rouge live music.
A fairly interesting thing about the Caterie is you can no longer smoke inside the Caterie. So it's with no doubt the best smoke free live entertainment place in town.