Saturday Night Out Around Town
Checking out the Baton Rouge Nightlife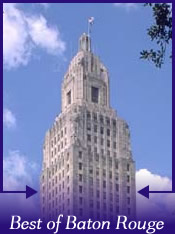 This Saturday we were looking to break our usual routine for going out in Baton Rouge. We decided to start off with a trip to the original Chimes restaurant at the North Gates of LSU. I still love this place more than any other in Baton Rouge. It's got so many good memories personally as well as in the building itself. A true LSU tradition. The food was excellent and the soups were as usual outstanding. If you visit the Chimes you must order a soup or gumbo from them.
Next up was going check out the new place in town over at 600 Main. They've opened up a club targeting the rich diversity of Baton Rouge. Getting there at 9:30 was too early as this place really brings in the 10pm - 2am crowd. We hung out until around 11 enjoying a beauty/swimsuit contest. Lots of well dressed people enjoying the nightlife.
The night was wrapped up with a visit to a long running popular Baton Rouge spot in The Station. They had a great band rocking out with lots of dancing going on. The Station is a long time popular night spot here. Good any Thursday and Saturday for those looking for the crowd.