Best Restaurants For Eating and Drinking Outside In Baton Rouge
My Favorite Places For Outdoor Lounging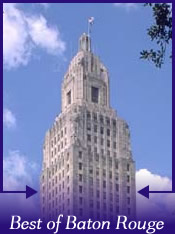 One of my favorite ways to spend a warm Spring or a cooling Fall around Baton Rouge is to find a restaurant or bar with a cool patio to kick back and enjoy a few beers and appetizers. Really food is what it's all about in this city so why not celebrate it as often as possible right? I do as much as possible. Here are my favorite places to enjoy that beverage outdoors in no particular order:
The Bulldog - This great beer tap room is all new for 2009. They built a really nice new brick patio with a cool beer tap fountain and a gas fire place. Lots of seating and lots of beers. Great place to enjoy drinks outside.

The Chimes East - Huge selection of beers on tap and in bottles. Pretty good Louisiana style food and a nice outdoor patio.

Tsunami - No doubt the best view from a restaurant in a city. They have a huge outdoor area overlooking the Mississippi and downtown Baton Rouge.

3rd Street in Downtown Baton Rouge - Happy's Irish Pub, Boudreaux and Thibodeaux and The Roux House all have outdoor areas making it a great trifecta for outdoor drinking and hanging out. Happy's has a couple of tables while BnT has an upstairs balcony for you to hang out on Mardi Gras style. The Roux House has a large gated outdoor patio where they occasionally have a band playing. A great area.

Walk On's Burbank Location - They have a great outdoors area with an easy access back bar. Great view of the LSU area.

Hooter's On Siegen Lane - A covered outdoor patio area.

La Carreta - Nice arrangement of tables in back and a really great mexican restaurant. Margaritas on the patio!!

Ahuuas Mexican Restaurant - Located in South East Baton Rouge in the Woodlawn area they have a very cozy outside seating area. On weekends they'll have acoustic music.
That's it for now. I'm sure I'll get my memory jogged about other places that rock and simply slipped my mind while compiling it.