Mid-City Perkins Road Entertainment Area
Great Restaurants, Great Bars, Great Nightlife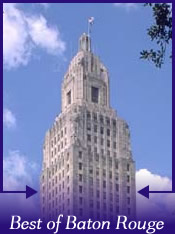 In the middle of Baton Rouge within less than a half mile diameter of where Perkins road and Interstate-10 meet you'll find one of the best places to enjoy yourself in town. Restaurants, bars, nightlife and more can be found here. Many of the places have been here for a long time and continue to be the best in Baton Rouge.
My wife and I recently enjoyed a great night in this area and I give them big credit for presenting one of the best areas in town.
Baton Rouge Restaurants & Bars:
DiJiulio Brothers - A wonderful Italian cafe serving some of the best Italian food in town. A very popular and very good place. One of my wife's favorites.
Rama Thai Cuisine - Many will tell you this is some of the most authentic Thai you can find.
Zeeland Street Market - Homestyle cooking and unique creations that make this place a huge local favorite.
Parrain's Seafood - A great taste of Louisiana style seafood. I frequent this place.
Zippy's - Very cool Mexican style place that's very casual. They have a real cool outside area to hang out and enjoy drinks.
Chelsea's Cafe - Some absolutely excellent food in this long time local favorite. Enjoy an absolutely perfect menu of offerings that many people love to go enjoy. They put a creative twist on all their dishes that I love. They also have a stage in the back where they have live music & entertainment.
Zee Zee Gardens - A very friendly local favorite. I enjoy going have drinks at this comfortable place.
Duvic's Martini Bar - A great place to go enjoy a cool evening and some of the best martinis in town.
Ivar's Sports Bar & Grill - A popular night spot that has some great sports grill type food. Good place to start out a party night.
George's Local Restaurant & Bar - You'll fit right in at this classic corner bar favorite in Baton Rouge. Always a great place to have a drink.
The Caterie - One of the best nightlife spots in town you'll always find a great live music act here. Great drink prices in the most entertaining hole in the wall you'll ever visit. They also serve great food and allow no smoking inside.
Juban's Creole Restaurant - Juban's offers some of the finest dining in town. They have a beautiful restaurant hidden away in the shopping center at the corner of Perkin's and Acadian Thruway. Excellent wine selection and beautiful bar. A must visit.
Happy Note Lounge - A small but popular hole in the wall that packs the room with people. Popular with the local LSU students. Known for their cocktails.
Uncle Earls - Sister bar of the Happy note this is another popular college age bar known for their strong drinks.

All of these places are really great and good for a fun evening.

Additionally the area where Ivars, Chelea's, Duvic's and Georges is locate is host to the biggest St. Patrick's day parade celebration area every year. I always go check it out.

You may also want to explore our Bars Section, nighlife and our restaurants section.

Coming Soon: The mid-city area continues to grow and get better with a big edition coming for late 2008 in the Acme Oyster Hours. A great New Orleans favorite coming to our growing city.