Revisiting Downtown Baton Rouge
I admit I don't make it downtown as much as I used to.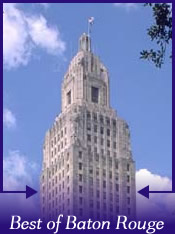 What can I say it's tough now days for me to make it downtown. I live in South East Baton Rouge so my path never takes me that way anymore. However when I attended a newly formed Baton Rouge Bloggers meeting on 3rd Street Thursday it was the perfect opportunity to take a look at what I'd been missing downtown.
Lucy's retired surfers restaurant and bar. Apparently this is a chain recently come to Baton Rouge but they setup a really nice new place right on 3rd street. It's a really cool hangout and as I enjoyed a beer at their long bar I felt like I might really be out on the beach. It's got that tiki/cabana/beach/whatever feel to it.
Strand's cafe I'd heard about for months now. I kept getting emails from visitors over how great it was and how it needed to be in my coffee and breakfast section. I was taken aback walking in to Strand's. It's just so beautiful with it's hardwood floors and brick walls. You walk up to smiling faces at their coffee bar waiting to take your order. The iced coffee and croissant I had were some of the best I've ever had. I was particularly impressed with the chocolates selection these fine chocolatiers make in house. If you don't visit this cafe while downtown you're missing a real gem.
Wag's on the levee was great for lunch. I imagine everyone downtown just loves this place based on the one lunch I had while there. Service was extremely friendly, prices were good and the food was home cooking at it's best.
I must say that downtown in early Spring weather was beautiful. All the people moving around and enjoying 3rd street was really great. I had that city feel which you really don't get a lot of in Louisiana. I'll definitely have to make it there more often when the weather is nice.