2008 LSU Football Season
Tailgating and Celebrating College Sports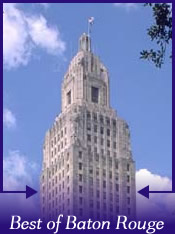 LSU just had a great 2008 opener against the very feisty Appalacian State. Yeah we had to start at 10:00 AM due to hurricane Gustav coming down our throat and yeah we had to bail out early but once again it's the start of the hands down
best live entertainment in Louisiana
.
Yearly I'm still amazed how many folks come out to party and all the innovative twists they put on for having a great time tailgating. Today I saw around a half dozen different cajun microwave designs, the coolest mobile club stereo system ever and a 15 foot boat on a trailer that'd been converted into a BBQ pit. That's right the entire boat was a purple and gold cooker. Unreal.
Ever since LSU got serious and put the football team on the national stage they've created something bigger than Mardi Gras for the people of Baton Rouge and South Louisiana. Nothing compares to the celebration that goes on around LSU football. Anyone looking to truly experience South Louisiana culture, cuisine and fun should consider a vacation during LSU tailgating.
Our defending national chapions looked great today and ready to make a strong defense of their SEC & NCAA title. I wouldn't be suprised at all to see the Tigers playing again for it all in 2008.