2009 LSU Football Season Is Here
The biggest weekly event for Baton Rouge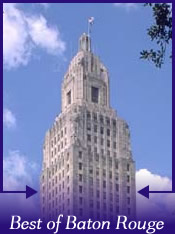 The echoing sentiment around Baton Rouge has been ďthank God itís finally football season againĒ. You canít help but get excited about another year of LSU football. Weíre in the golden age of LSU sports and as far as partying and building up for games football is by far the biggest. Itís a celebration where people from all over the state come to Baton Rouge for home games and party for up to 36 hours before the game even starts. As far as Iím concerned thereís nothing better that happens in Baton Rouge and Iíd say that if you ever have to find a reason to come here Iíd do it plotting to go to an LSU game.
Everyone in the city comes together rallying around the Universityís football team. The bars and restaurants all get ready for the huge influx of fans looking for places to watch the game or celebrate a win. Businesses replenish their stocks with the latest LSU merchandise to sell to eager fans. Everyone starts talking about plots to test out their new super BBQ pit, tailgating music system or other wild tailgating accessories. Come the Friday before the first game the whole city is wearing purple and gold. This is truly a football town that loves to party and it really brings out the best of what Baton Rouge has to offer.
If youíre an outside visitor looking to enjoy a great time come on out. If youíre friendly youíll have no problem exploring campus until you find some outgoing tailgaters willing to take on outsiders. Iíd suggest strolling down Nicholson Extension where youíll find Touchdown Village and a large number of rowdy fun tailgates that setup around Taylor Hall and the edge of Touchdown Village in the free lot. If youíre looking for information on how to get there or where to go they have a great page of information including updated rules and areas at
this page on LSUSports.net
. Of couse I'm always happy to answer questions to visitors so email me on my contact page below!
Geaux Tigers!