Baton Rouge Idol At Perkin's Rowe Saturday
Come Audition To Go Audition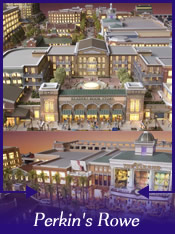 Perkins Rowe will host the 2009 Fox44 Baton Rouge Idol Finale on Saturday, June 27 from 6pm till 8pm. The winner will win a trip for two and a guaranteed audition with American Idol Producers on July 14, 2009 in Denver, Co.
Registration for auditions will begin at Magnolia Park in Perkins Rowe at 10am on June 27 and closed auditions will be held from 10:30am till 4pm. A panel of judges will select the top 10 to perform live on stage at the Fox44 Baton Rouge Idol Finale from 6pm to 8pm, with special perfomances by Lindsay Rae Spurlock and Solar Heat.
Auditions are open to men and women 16-28 years old as of June 12, 2009, who are eligible to work in the U.S. In less than a year, the winner could be standing on the Idol stage at the Grand Finale! For more information head over to
Fox 44's Website
I might need to grab an ice chest, an umbrella, about 24 beers and go watch this.