Baton Rouge New Years Eve 2009
Welcoming 2010 In Baton Rouge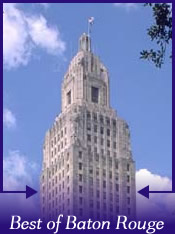 2009 has been a wild ride of a year for everyone all over the country. I for one am glad to be leaving it behind hoping that for some reason a number change will make everything run a little smoother. Looking on the bright side of things 2009 has been pretty smooth in regards to Baton Rouge from an entertainment standpoint. We've seen a lot of new entertainment options start to become available to us. As an avid beer lover it's a gift from god to get The Bulldog and The Cove as options here in 2009. But anyway before I start talking about beer and what I'll be drinking this week back to the action. What to do for New Years?
Boudreaux and Thibodeaux are having a big Jitterbug party downtown. Packages and party favors are available. This is a great option. The Hilton New Years party that had gone on the last two years will not continue in 2009 but they do have rooms and specials.


Triple A New Years Party - Every year they have a really cool themed party. 2010 is a black and gold party honoring the New Orleans Saints. DJ Trashy which is a night club all star of sorts will be playing so there is sure to be a crowd.


The Crown Plaza AKA The Holiday Inn Select on College has a big yearly New Years Eve party and special. This year they have the Baton Rouge Symphony Orchestra and the V*Tones.

That's the quick and dirty of what I've been written about. Although just about every establishment worth their salt puts on for New Years so call around. I'm off duty for partying this year taking care of my brand new 5 week old daughter!

Building this website has been a lot of fun in 2009. I've had it for some time but this year was the first I put some real time in to it. It's been rewarding as I've heard a lot of positive feedback from the community.

Happy New Years Baton Rouge!