Batting Cages + Laser Tag = Fun Saturday
Family fun for everyone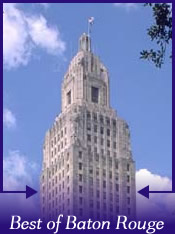 My friends and I recently joined BREC's intramural softball league here in Baton Rouge. To get tuned up for a league where men have to bat opposite handed we stopped in to
Big Leagues of Baton Rouge
to check out their great batting cages. For about 2 hours we had a great time swinging bats with the kids in the slow pitch softball cage.
Once we were done hitting away we decided to skip a mile down the road to the
Laser Tag of Baton Rouge
complex for some serious shooting fun! It was an excellent way to finish the evening. We ran around their 21,000 square feet complex shooting each other(and 12 year olds), played some games and really had a good time of it.
This was a great Saturday good for a group of friends or the whole family. I might add that both places host birthday parties for kids.(or 30 year old adults like me)